How forklift safety and driver training courses are delivering safer, accredited MHE drivers
With the UK facing the worst labour shortages since 1997 and a shortage of logistics workers currently disrupting the supply chain nationwide, the importance of training and retaining qualified and accredited staff cannot be understated. In this blog post, Andy Pye, Health, Safety, Environment and Quality (HSEQ) Manager at STILL UK, discusses how forklift safety and driver training courses are delivering safer, accredited MHE drivers to the warehousing and logistics industry.
---
What accreditations are available for forklift drivers?
There are various accreditations for forklift drivers, such as RTITB, AITT and ITSSAR. At STILL, we have a driver training partner and they are accredited to RTITB standards. Which accreditation an individual chooses comes down to their preference. They're all recognised accreditations and standards, so it often depends which accreditation the operator or their employer prefers.
---
What are the safety benefits that come from having trained drivers operating the vehicle fleet?
The first and most obvious, is keeping customers and employers compliant with the law. The management of health and safety regulations state that employers are required to carry out a suitable risk assessment on every activity they do in order to protect their employees and others. One of the biggest risks within warehouse operations and the movement of forklift trucks is injury to staff, so having employees trained to use the warehouse equipment is a key element of any operational risk assessment. However, there are other factors to consider because forklift operation doesn't just pose a risk to the driver; there can also be a risk of injury to bystanders and other workers operating in the vicinity. MHE equipment operators and forklift drivers must be aware of pedestrians moving around in warehouses and where they are operating. Competently trained forklift operators, along with site specific trained pedestrians, is key to a safe and efficient work environment and goes a long way to reducing the risk within the workplace.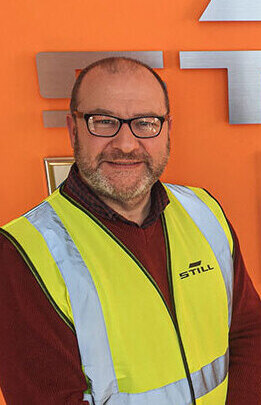 ---
What obligations does an employer have to ensure their drivers are trained?
This is a specialised area of mine being health and safety. If we start right from the top, the Health and Safety at Work Act 1974 is the ultimate piece of legislation that we all have to adhere to. An employer AND employees all have a responsibility to ensure the health & safety of themselves and others around them who are affected by what they do.
You then have the management of Health and Safety at Work Regulations, which stipulates that you put in place a risk assessment and identify the hazards within the workplace. In this particular industry, this is anything that may cause harm; vehicles on site, hazardous structures, potentials for loss of stability, items falling from the forklift or somebody being lifted or crushed from the forklift.
Then you've got other regulations that are applicable to logistics employers, such as the provision and use of work equipment, or the PUWER Regulations. This focus is on making sure the equipment itself is suitable for purpose, maintained and regularly inspected.
---
What should people look for when choosing a driver training course?
People need to look for the right course for the equipment that's being operated. There are many differences with the operation of different types of forklift trucks. How you drive and operate a counterbalance truck is completely different to how you drive and operate a reach truck or a powered pallet truck. To legally prove sufficient training, the operator must be trained in the particular piece of equipment they're operating.
Selecting the right training provider is key as well. At STILL, we've worked with our driver trainer partner for many years. They are approved under the RTITB scheme and the feedback that we receive is always very positive. They're very knowledgeable guys that have been with the business for many years which is key for us.
---
What type of MHE vehicles does STILL offer training for?
A better question would probably be what don't we offer training for! We offer driver training courses for almost any kind of forklift truck.
For operators using counterbalance trucks as an example, there are two levels of vehicles. There's what's called a Class B1, which is any forklift truck with a capability of lifting under five tonnes and then you've got a Class B2, which lifts anything over five tonnes, and we offer training for both of those. For reach trucks, again, there are two classes to that depending on the height that you're lifting (class D1 and D2), we have training for both those variations. Powered pallet trucks, very narrow aisle trucks (VNAs), high-level and low-level powered pallet trucks, mobile elevating work platforms (MEWPs)…we have courses available to teach how they can be operated safely. To ensure adequate training of driver operators, businesses must ensure their staff are trained to operate the right vehicle.
---
What are the benefits of STILL's driver training courses?
The driver training can be completed at both of STILL's premises – either at our Leyland facility or our Exeter facility. We can also accommodate the training on customers' premises as well. Our training has been tried and tested for many years and is accredited to RTITB using our driver training partner. We also have access to a large number of the best trainers around the country so whatever the customer requirements, we can often accommodate them.
Comments
No comments
---
Subscribe to our blog!
As soon as a new article is published, we will notify you! You can unsubscribe at anytime.