VNA Trucks
High up in very narrow aisles
A VNA truck (Very Narrow Aisle truck) is designed to operate in spaces with limited room for manoeuvring, making them ideal for use in high-density warehouses and distribution centres.
VNA trucks are able to navigate aisles as narrow as 1.6 metres, allowing businesses to maximise their storage space without sacrificing efficiency. VNA trucks can reach heights of up to 18 metres, providing businesses with the flexibility to store products at greater heights.
At STILL, we offer a range of VNA trucks to meet the diverse needs of businesses. Our machines are designed with precision and quality, and are built to provide optimal performance and reliability. With our extensive range of VNA trucks, businesses can maximise their storage space, streamline their operations, and enhance their productivity.
What is important to you?
The right vehicle for your application
Classic Line
STILL Classic Line trucks are ideally suited for light-duty operations in single-shift operation. The Classic Line trucks have standardised equipment and are quickly available.
Xcellence Line
STILL Xcellence Line trucks are ideal for all applications, especially in multi-shift operations. The Xcellence Line trucks are configured individually according to your requirements and integrated precisely into your intralogistics processes.
Basic Truck
Application Hardness
Application Area

| | |
| --- | --- |
| M | Modular Narrow Aisle Truck (Man Up) |
| N | Narrow Aisle Truck (Man Down) |

| | |
| --- | --- |
| C | Classic Line |
| X | Xcellence Line |
Contact
For further information please contact our consultants.
Request to: Order picking stacker trucks
Please fill out the form below. We will get back to you as soon as possible.
System trolleys - for narrow aisles and high shelves
High rack systems separated by very narrow aisles are one of the most effective in terms of infrastructure and organization storage. Compared to a standard warehouse that is easy to maneuver an electric forklift truck around, the width of the working aisles can be reduced here by up to 65%. Navigating aisles measuring just 1,080 mm and handling loads at height eighteen meters above the floor level are, however, one of the most demanding tasks in internal transport. Our system trolleys designed to work in such conditions and are equipped with a number of solutions that guarantee safety and work efficiency. The modular design allows each VNA stroller to be precisely adapted to the specificity of a warehouse and activities that the vehicle has to perform every day.
Examples of solutions facilitating the work of system trolleys
The many important factors determining the level of difficulty in situation where system trolleys are used; the issues of vibration when the mast is stretched to level 13 or 18 metres and the need to maneuver in very tight spaces. In both of these cases the pressure on the stroller can be reduced thanks to modern driving assistance systems. STILL's solution means that vibrations into the cabin are minimised through a system that compensates for unevenness of the floor using a system called Active Floor Compensation (AFC). The vehicle's sensors register the relative height of the wheels on the support axes of the system trolley. If there any differences in the readings, the vertical position of the stand is immediately leveled. This means the vehicle frame is level at all times and the mast is kept perfectly vertical.
The second challenge faced by system truck operators is the very narrow aisles which the alternative name of these vehicles - the VNA (Very Narrow Aisle) stroller - refers to. The specifics of these machines means that the width of a working aisle can be reduced by up to 1,080 mm. To avoid a collision when the ground clearance is only 90mm, the system carriages are guided along the aisle by an automatic system. With the use of additional software such as STILL iGo pilot, it is possible to commission the vehicle to reach a specific location on its own - with compliance for all safety recommendations and maintaining optimal speed of movement. As a result, the VNA truck relieves the operator of the need to manually adjust the controls and allows them to focus on picking up and putting down loads, reducing the likelihood of accidents or mistakes.
Modular STILL MX-X - the flagship VNA stroller in the STILL Polska offer
The STILL MX-X system trolleys are the most popular series of STILL vehicles for working in narrow aisles. Their distinguishing feature is the modular structure, which gives extraordinary flexibility and allows the vehicles to be adapted to the specific conditions of a warehouse. With a maximum lifting height of up to 18 metres, this model allows you to work effectively in high bays. Due to its compact dimensions, the MX-X can be used in a much narrower aisle than standard (from 1080 mm). With a driving speed up to 14 kilometres per hour and lifting speeds of up to 0.6 metres per second, they also demonstrate excellent handling performance in extensive facilities. The MX-X's benefit from extensive navigation and safety systems - iGo pilot, floor compensation (AFC) and active load stabilization (ALS) - to omaximise efficiency and ensure worker safety. Thanks to the 48 V battery compartment, the MX-X series carts are ready to work in Li-Ion technology. Additional equipment, such as a rotating fork carriage or telescopic forks, allows you to adjust the VNA to handle various loads as required.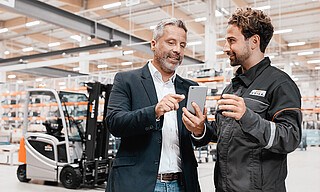 Service Offer
Service your truck from as little as
£22.92 +VAT per month