Reach Trucks
Innovation at every level.
Reach trucks are versatile forklifts specially designed to navigate narrow aisles and reach high shelves, making them the perfect solution for facilities with limited floor space and high-density storage. The distinguishing feature of a reach truck is its ability to extend the forks and lift pallets to high levels. Unlike other types of forklifts, which lift the load straight up, reach trucks are equipped with a telescoping mast that can extend the forks and the load forward, allowing it to reach heights of up to 13 metres. Reach trucks are also known for their manoeuvrability, designed to turn in tight spaces, which makes them ideal for use in warehouses with limited floor space. STILL are also one of few manufacturers that offers a Reach Truck with super elastic tyres (FM-X SE) for both indoor and outdoor use.
At STILL, we offer a range of high-quality reach trucks that are suitable for businesses of all sizes and budgets. Our knowledgeable and experienced team is always on hand to answer your questions and provide expert advice, ensuring you get the most out of your reach truck purchase.
What is important to you?
The right vehicle for your application
Classic Line
STILL Classic Line trucks are ideally suited for light-duty operations in single-shift operation. The Classic Line trucks have standardised equipment and are quickly available.
Xcellence Line
STILL Xcellence Line trucks are ideal for all applications, especially in multi-shift operations. The Xcellence Line trucks are configured individually according to your requirements and integrated precisely into your intralogistics processes.
Basic Truck
Application Hardness
Special / Attachments

| | |
| --- | --- |
| C | Classic Line |
| X | Xcellence Line |

| | |
| --- | --- |
| SE | Superelastic Tyres |
| 4W | Four Way Direction |
Contact
For further information please contact our consultants.
Request to: Reach trucks
Please fill out the form below. We will get back to you as soon as possible.
STILL reach trucks - genuine reach trucks
Thanks to their unique features, STILL reach trucks allow the operator to reach the highest levels of the racking without having to lift the whole cabin up (unlike, for example, VNA trucks). This is possible thanks to the inclusion of masts which, when fully extended, can reach up to several meters above the floor level, along with high values of residual load capacity. This parameter describes the maximum height to which a forklift can lift a load of a particular weight and size. STILL's flagship reach truck, the FM-X, can lift pallets weighing 1,000 kg to a height of up to 13 metres. Impressive upward reach is the most important feature of STILL reach trucks, but it's by no means the only feature! Maximum efficiency when handling loads on the highest rack levels is ensured by a range of operator support systems and a holistic ergonomic concept.
STILL forklift productivity enhancing systems
STILL's innovative Active Load Stabilisation (ALS) system is our answer to the vibration problem typically encountered while working on the top levels of racking. Until now, handling loads at heights of more than a few metres has meant waiting for the physical vibrations of the extended mast to stop. According to a STILL study, when a load of 1,000 kg is lifted to a height of 8.7 metres, the mast of a typical reach truck vibrates in a way that prevents safe operation for more than 25 seconds. With the Active Load Stabilization system, this vibration stops 80% faster. ALS works on the principle of generating an impulse by the hydraulic linear actuator which counteracts vibrations on the mast. The result? Instead of waiting for almost half a minute, the forklift operator can handle the load again after about 6 seconds! The result is a significant reduction in the time required to perform tasks in the area of high storage rack operation. Every STILL reach truck in the FM-X series is equipped with the Active Load Stabilisation system as standard. They are also available with the Easy Target and Easy Target Plus pre-selective lift height adjustment and the Optispeed system, which adjusts the fork speed according to the load level. Load positioning is also facilitated by side shift, cameras and a lift height indicator. Maintaining productivity throughout a shift is not just about speeding up forklift tasks, but also about enhancing comfort and minimising operator fatigue. STILL's side loaders excel in this area too.
Ergonomics in STILL reach trucks
Every STILL reach truck can be described as an "ergonomic truck". The company's holistic ergonomic concept for its sideloaders is based on creating the optimum working environment for the operator. We start with seat cushioning that reduces shock even when driving on uneven surfaces at maximum speed; through a seat and floorboard adjustment system that allows a comfortable position regardless of the user's height and build. Then there's a reclining backrest that allows a comfortable view of the load on the highest levels of high storage racks and an optionally available armored glass roof that simultaneously provides excellent upward visibility and protection against falling objects. At a time when a healthy and happy workforce is essential, STILL's forklift solutions help ensure the wellbeing of operators and enable them to work efficiently throughout a shift without tiring.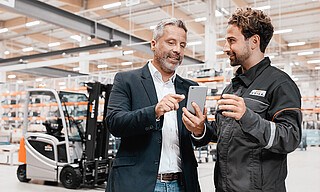 Service Offer
Service your truck from as little as
£13.33 +VAT per month