High lift stackers
that like to outreach themselves
A high lift stacker is an indispensable tool for any warehouse or distribution centre that needs to move heavy loads efficiently and safely. With their ability to lift loads to higher heights than other types of forklifts, a high lift stacker is perfect for use in facilities with high shelves or tight spaces. They are also known for their ease of use and excellent manoeuvrability, making them a popular choice for warehouses looking to maximise their productivity and streamline their operations.
At STILL, we offer a wide range of high lift stackers designed with safety and efficiency in mind, featuring state-of-the-art technologies and rugged construction that can withstand the toughest working conditions. Whether you need a classic line stacker for occasional use or Xcellence line for heavy-duty applications, we have the perfect solution for you.
What is important to you?
The right vehicle for your application
Classic Line
STILL Classic Line trucks are ideally suited for light-duty operations in single-shift operation. The Classic Line trucks have standardised equipment and are quickly available.
Xcellence Line
STILL Xcellence Line trucks are ideal for all applications, especially in multi-shift operations. The Xcellence Line trucks are configured individually according to your requirements and integrated precisely into your intralogistics processes.
Basic Truck
Application Hardness
Operational Area
Special / Attachment

| | |
| --- | --- |
| E | Electric Pallet Truck |
| F | Flexible Drive Truck |

| | |
| --- | --- |
| C | Classic Line |
| X | Xcellence Line |

| | |
| --- | --- |
| V | Vertical Lift |
| P | Pallet Pick-up Flexible |

| | |
| --- | --- |
| SF | Stand-On Platform Foldable |
| CB | Counterbalanced |
Contact
For further information please contact our consultants.
Request to: High lift stackers
Please fill out the form below. We will get back to you as soon as possible.
STILL high lift stackers - helpers in rack management
STILL hight lift stackers are compact vehicles designed for the horizontal transport of loads, as well as for lifting, stacking and retrieving from a height of more than 6 metres above floor level. With a maximum load capacity of 2 tons, a variety of masts, high residual capacities and an ergonomic design, STILL lift trucks enable effortless and efficient storage of the most common types of load on racking systems. Compact design makes every lift truck from STILL easy to operate in narrow aisles and cramped spaces. This has a positive impact on occupational safety and allows for load distribution to maximise storage density. A choice of battery variants, with integrated battery charger or side battery exchange, ensures high truck availability throughout the shift, even in busy sites. This means that the forklift truck can be adapted to the specific requirements of each company in order to maximise the efficiency of the material handling process. STILL's extensive range of electric lift trucks also includes models with a drawbar for pedestrian operation, variants with an extendable pneumatic platform and side-mounted lift trucks with a seat.
Pedestrian lift trucks with ergonomic drawbar
High lift stackers with a drawbar for pedestrian operation are an ideal solution for unloading trucks, transporting goods to buffer zones and placing them on the shelves there. These types of vehicles have a maximum travel speed roughly equivalent to walking speed and so are particularly recommended for use in transporting loads over relatively short distances. All pedestrian high lift stackers offered by STILL are equipped with an ergonomic, symmetrical drawbar. This feature allows travel control functions and hydraulic fork/vertical load movement to be performed equally well by left and right-handed workers. The electric drive means that the operator hardly needs to use their own strength to drive the vehicle, so physical stresses and fatigue levels are low at the end of a shift. In addition, processes carried out using drawbar-guided electric lift trucks are not subject to manual transport regulations. The only limitation on the weight of the load is the maximum load capacity of the specific model you're using. In practice, this means that an entire pallet full of products can usually be transported on the forks of a lift truck in one trip. The EXV 14-20, for example, has a maximum load capacity of 2 tons. The series features a number of innovations, such as an optional residual lift indicator that tells the operator in real time how high the load can be lifted on the forks. The EXV's travel speed also adapts to the degree of tilt of its drawbar. If the operator lets go, the truck automatically stops - even on ramps - minimising the risk of accidents.
For longer distances - lift trucks with platform or seat
For warehouses with high storage racks, where designated transport routes also include longer distances, electric lift trucks with a seat or folding platform for the operator are recommended. This enables the truck to be driven alongside the operator, increasing maximum travel speeds up to 10km/h and maximising handling efficiency over medium and long distances. For safety and stability on curves, STILL's operator-carrying lift trucks are equipped with Curve Speed Control, which automatically reduces speed when driving around a curve. The design of the workstations in these types of vehicles also reduces vibrations transmitted to the operator - whether through a cushioned seat (on FXV 14-16 and FXV 14-16 N models), or a pneumatically cushioned platform that allows it to be adjusted to the operator's weight (on EXV-SF 14-20 series lift trucks).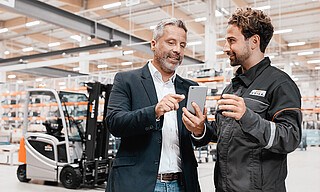 Service Offer
Service your truck from as little as
£10.05 +VAT per month