Order pickers
Our professionals for every dimension!
Order pickers are an essential tool for businesses needing to fulfil customer orders quickly and efficiently. These versatile forklifts are designed to help operators quickly and safely pick items from shelves, making them ideal for use in warehouses, distribution centres, and other storage facilities.
At STILL, we are known for our innovative designs and high-quality construction, making our order pickers a popular choice for businesses of all sizes. A popular option is the STILL OPX series. These order pickers are designed with the operator in mind, providing a comfortable and intuitive workspace that helps to maximise productivity. The OPX series also features an adjustable steering wheel and adjustable control console, allowing operators to customise the vehicle to their preferred working position. With their energy-efficient motors, the OPX series helps to reduce operating costs while maintaining excellent performance. A particular innovation in this field is STILL iGo Neo Semi-Automated Low Level Order Picker.
What is important to you?
The right vehicle for your application
Classic Line
STILL Classic Line trucks are ideally suited for light-duty operations in single-shift operation. The Classic Line trucks have standardised equipment and are quickly available.
Xcellence Line
STILL Xcellence Line trucks are ideal for all applications, especially in multi-shift operations. The Xcellence Line trucks are configured individually according to your requirements and integrated precisely into your intralogistics processes.
Basic Truck
Application Hardness
Operational Area
Special / Attachments

| | |
| --- | --- |
| O/OP | Order Picker Truck |
| EK | Fixed Platform Truck |
| P | Picker Narrow Aisle Truck (Man Up) |

| | |
| --- | --- |
| C | Classic Line |
| X | Xcellence Line |

| | |
| --- | --- |
| V | Vertical Lift |
| D | Double Stacker Lift |

| | |
| --- | --- |
| S | Scissor Forks |
| Plus | Performance Plus |
| iGo neo | Autonomous |
Contact
For further information please contact our consultants.
Request to: Order pickers
Please fill out the form below. We will get back to you as soon as possible.
STILL order picking trolleys - the secret to efficient order handling
The incredible increase in e-commerce and online shopping over the last few years has meant that many businesses are looking to technology to speed up the processing of orders. Intralogistical solutions are gaining popularity, thanks to their ability to pick up goods quickly and more efficiently than manual operations. Order picking trolleys have become an integral part of the fulfillment process, with improvements being made to existing models and bespoke machinery being created to suit specific tasks. The STILL Polska order picking trolleys include both horizontal order pickers and vehicles to efficiently handle goods on the first floors of racks, plus order picking trolleys with a range of up to 12 metres. The range is constantly being expanded and improved upon to meet the needs of our customers.
OPX / OXV - horizontal, 1st and 2nd floor order picking trolleys
The OPX and OXV series include order picking trolleys with a nominal lifting capacity of up to 2.5 tons. The series comes with adjustable controls which allows the user to adjust the device for the specifics of the plant, warehouse or operations. Both the OPX and OXV pickers use a number of solutions to improve ergonomics, increase efficiency and reduce the time required to complete tasks. The addition of the STILL Easy Drive system ensures precise maneuvering of the stroller thanks to a comfortable, responsive steering wheel and an integrated display allows the operator to monitor the vehicles battery status and run time. On vehicles with a mast (such as the OXV 08 model), this can also be used manage the hydraulics of vertical displacement without needing to take your hands off the steering wheel. With carts for picking items from the first and second storeys, the masts can be controlled independently from the position of the cabin. This option of "driving diagonal" - with simultaneous vertical and horizontal movement - allows you to save significant time in operations.
EK-X - Vertical order picker with a lift up cabin
The EK-X series vertical pickers have been created and optimised to efficiently handle loads up to 12 meters about floor level, making them ideal for warehouses with multiple levels of racks from which to retrieve goods. With high levels of residual capacity, a lifting speed of up to 0.4m per second, a travel speed of up to 13 kilometres per hour and the iGo pilot navigation system, the EK-X order pickers achieve excellent handling performance and move at the highest pace permitted by safety standards. Ergonomic design keeps the operators comfortable and working efficiently throughout a shift. The low cabin walls and short distance of the loading platform enables easy handling of loads of all shapes and sizes. Optional tilting side rails provide easy access to goods and the height-adjustable work desk guarantees comfort and control.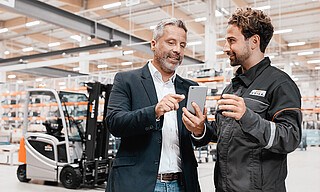 Service Offer
Service your truck from as little as
£14.30 +VAT per month