Diesel and LP Gas Forklift Trucks
Perform more. Consume less.
With a diesel forklift truck, you can enjoy unparalleled durability and performance that can handle heavy-duty applications such as construction sites, ports, and manufacturing plants. And if you need a forklift that's quiet, clean, and fuel-efficient, an LPG forklift truck can be the perfect solution for use in warehouses, retail stores, and other indoor settings.
At STILL, we offer a wide range of high-quality forklifts that are suitable for businesses of all sizes and budgets. Whether you need a diesel forklift truck or LPG forklift truck, we have the expertise and selection to help you find the perfect forklift for your needs. Our knowledgeable and experienced team is always on hand to answer your questions and provide expert advice, ensuring you get the most out of your forklift purchase.
What is important to you?
The right vehicle for your application
Classic Line
STILL Classic Line trucks are ideally suited for light-duty operations in single-shift operation. The Classic Line trucks have standardised equipment and are quickly available.
Xcellence Line
STILL Xcellence Line trucks are ideal for all applications, especially in multi-shift operations. The Xcellence Line trucks are configured individually according to your requirements and integrated precisely into your intralogistics processes.
Basic Truck
Application Hardness
Operational Area

| | |
| --- | --- |
| R | Counterbalanced Rider Truck |

| | |
| --- | --- |
| C | Classic Line |
| X | Xcellence Line |

| | |
| --- | --- |
| 70 | Outdoor LPG/Diesel Transport |
Contact
For further information please contact our consultants.
Request to: Diesel and LP Gas Forklift Trucks From 1.6 to 8.0 t
Please fill out the form below. We will get back to you as soon as possible.
RCD / RCG series - diesel forklift trucks and LPG forklift trucks with excellent price-quality ratio.
The RCD / RCG series of internal combustion engine forklifts (diesel and gas powered) are solid and efficient transport vehicles, available in 3 load capacity classes from 1.6 to 5.0 tons: RCD / RCG 15-20, 25-35 and 40-50. The two product lines are the result of the designers' desire to minimize the purchase cost of the trucks while maintaining the reliability and robustness associated with the STILL brand. They are therefore characterized primarily by good quality at relatively low investment costs.

The LPG and RCD diesel trucks of the RCG series also score highly from an ergonomic point of view. Operator comfort is ensured by hydraulic levers near the seat and an adjustable steering column. The padded cab absorbs vibrations when traveling over rough terrain. The design - with a low dashboard, large windows and narrow roof pillars - combined with narrow masts and high-quality standard lighting, provides excellent all-round visibility. The RCD/RCG series diesel and LPG forklifts are available with various fork lengths and mast options. High residual capacities and engine outputs round out the models, resulting in a versatile, cost-effective solution for all applications in this class of forklift.
RX 70 series - a range of hybrid trucks with a lifting capacity from 1.6 to 8 tons
The RX 70 20-35 series gas and diesel forklifts were among the first on the market intralogistics with hybrid drive. The solution was then duplicated across the line of vehicles RX 70 with a maximum nominal lifting capacity from 1.6 to 8 t. The drive connection used in them Combustion with electric allows to obtain excellent efficiency and reduce consumption at the same time fuel. This translates into lower operating costs and a reduction in the frequency of refueling and save time. The RX 70 20/35 diesel forklift with a hybrid drive is equipped it has a powerful gas or diesel engine and two electric motors - one at each wheel driving force. Thanks to the perfect interaction of combustion and electric technology, the model consumes from 2.4 liters fuel (according to EN 16796), which brings significant savings and enables optimization costs in the fleet management process. The flagship STILL offer is a diesel forklift available it is in four load classes 1.6 - 2; 2.0 - 3.5; 4.0 - 5.0 and 6.0 - 8.0 t. Thanks to diversified equipment variants, vehicles are used both on construction sites and at suppliers building materials, in shipyards, in the metal and wood processing industry, as well as in companies transport and logistics. Compact structure and precise control and lifting make the maneuvering of any RX 70 IC forklift unique simple and fun. The comfortable cabin and the elaborate operating concept make it possible to prevent operator fatigue and increase safety.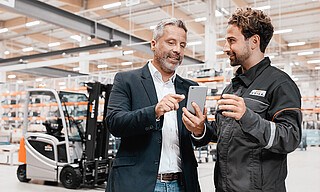 Service Offer
Service your truck from as little as
£13.76 +VAT per month