Smooth logistics operations at your company cannot be held back by seasonal weather conditions. A clean and safe working area is one of the cornerstones for fast and precise transportation of goods.
STILL auxiliary equipment ensures that you are well equipped for winter and autumn conditions. From the removal of the first falling leaves and the ploughing of snow through to preventive spreading of salt when fighting ice and snow build-up, we can provide easily mountable accessories and equipment to keep you prepared for anything.
---
Bucket Scoops
Even large piles of snow are no problem for the STILL scoops which come in sizes up to 1m³. A cable pull system makes tipping of your load easy and convenient.
sizes: 0.5 to 1.0 m³
colour: orange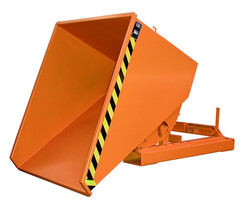 ---
Brooms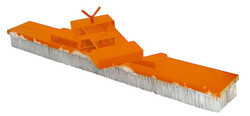 An all purpose tool for the removal of dirt, leaves or snow. Easily and quickly mounted and removed.
adjustable
robust steel construction with durable brush elements (individually replaceable)
1.5 and 2.0 m wide (additional widths available upon request)
colour: red
---
Snowplough
React quickly and clear away the worst of storms. Easily and quickly mounted or removed.
1.5 and 2.1 m wide (additional widths available upon request)
adjustable
colour: orange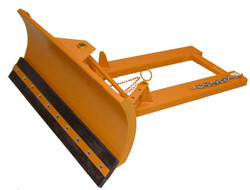 ---
Spreaders and Trailers
spreading area adjustable for spreading areas from 1.0 up to 6.0 m
for salt, sand, etc.
holds up to 105 litres
solid rubber tyres
protective tarp included
colour: red
---
Spreader
For sand, salt and gravel. Easily adjustable and easily operated using the forklift's hydraulics. Keeps your drivers' routes and working areas safe.
holds up to 265 litres
colour: orange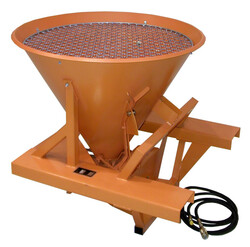 ---
Snow Chains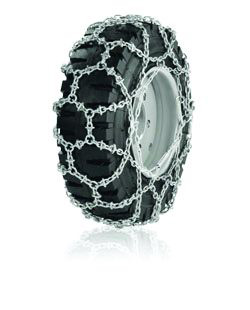 specially designed for forklifts and their high demands
fully hardened and galvanized (zinc plated) chains
asymmetrical cross chains with ice breakers for constant traction (D- shaped cross section of the chain links) and reduced vibration
tension created by lateral chains and tension levers
traditional mounting system with inner lateral chains for reliability even in the most extreme conditions
cross linked chains with reinforcements on the horizontal connections for better traction; 50% steel construction
specially welded rings between the structural and lateral chains offering higher reliability in any situation
internal chains with 2 stirrups for regulation and adjustment of the chain to varying tyre treads and stages of wear
double sided utilization possible for longer life
D- shaped strands 5.00mm and 5.70mm
packaging: gunny sack / Geotess pouch
---
Request to: Winter Equipment
Contact us
Find out more? Contact us for further information.
Request to: Winter Equipment