At STILL it is not only important to us that we offer high performance and efficient equipment, but also to maximize safety for your employees and company. Health is the ultimate priority and needs to be protected.
And not only the health of individual employees is at risk. Accidents can be quite costly to your company as a whole. Increase the safety of vehicles and operations with STILL safety systems.
With Easybelt, STILL offers an inexpensive and simple way to implement restraint systems consistently.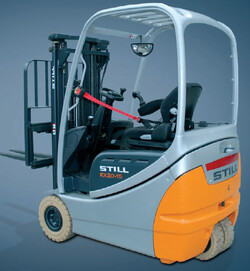 Function
Easybelt ensures that the safety belt is automatically placed diagonally across the operator. When entering the vehicle, the driver simply slips into the pre-tensioned belt. And the red Easybelt is so easily employed that the driver intuitively, and with one simple motion, is able to clip it into place.
The quick and easy nature of Easybelt makes buckling up child's play and ensures that the drivers more easily accept and use it.
Your Benefits
Economical addition to standard belts which guarantees that the drivers can fulfil safety requirements with almost no extra effort.
Allows for more efficient en- and disengagement meaning increased productivity.
Higher level of comfort in the driver's seat due to easy belt operation - drivers accept and use it.
Easily installed retroactively - Easybelt can be added to the counterbalance lifts in your fleet.
Contact us
Find out more? Contact us for further information.
Request to: EasyBelt from STILL